from brooklyn diy
It was great mostly. I took the bus down to New York with Mary & Adrienne on Friday afternoon. Once we arrived rocking out to '90s & middle school hitz at some random restaurant around 15th Street ensued. Eventually I met up with
Lee
&
Adam
at Don Pedro's in Brooklyn to see
Cheeky
&
Screaming Females
. My first time seeing both bands- awesome. I also finally got to meet Jarrett & Angie, who were both super nice.
For some reason Cheeky played first, and they were great. Stupid Party were next & were fun as well. Emergency Party didn't seem like they were gonna be all that interesting, so Adam & I stepped out for a little while (and Lee confirmed the boring factor). Screaming Females went on next, and the set was crazy fun. I had read a lot of places that Marissa can crazy shred, and live, it was confirmed true. If you haven't ever listened to them, her voice is really awesome, but I can't really compare it to anyone else's. I think my
favorite description
of them is from Marissa: "Queer disco on the moon, with pterodactyls and squid fighting satellite dishes." Anyway, everyone was dancing a ton and having a great time. I'm really excited that they're going to come up here on tour soon- stay tuned for more details.
Bone Zone played next. They're from Boston, but I hadn't seen them play before. They really didn't fit in with the bill, and I think the show would have benefited from having four bands instead of six (cutting out them & Emergency Party). Adam described them as "bro/jock noise" and peaced. Most people just went down to the basement or to the bar during the set. At one point some really drunk dude punched the singer in the face. It was really weird... I thought it was maybe some sort of performance art or something, but he was just really sloppy I guess & got kicked out. Anyway, Shellshag played last and were fun too. They covered
"Fuck and Run"
, which is one of my favorite songs ever.
Mostly it was just a totally posi night/space (yeah, I kind of hate the word "posi," but it's accurate in a non-cheesy, non-edge kind of way here). And in a way that I don't think totally exists in Boston (or LA). We have a lot of great shows here, but I've never been to one with this sort of atmosphere. Everyone was really friendly & having a good time. I think it's also the first time I've been to a majority female punk show. I'm not equating this with a positive atmosphere or anything, but it's definitely nice to see girls out on the scene.
If you look real close in that picture up there (from
Brooklyn DIY
), you can see me- I am smiling.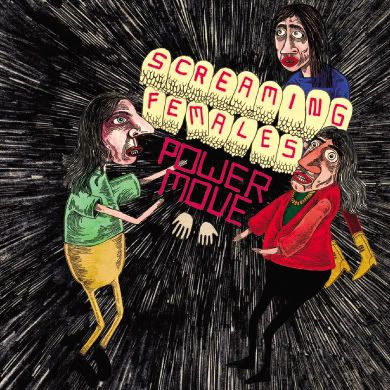 Screaming Females' spring tour will be for the release of their new album, Power Move. Look for it soon on
Don Giovanni
. Listen to some songs on their
myspace
if you want to get pumped.