Coming this May I'll be doing a Simple Machines orgy on the Record Hospital.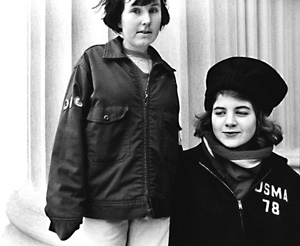 This is Jenny & Kristin taken from the Simple Machines site.
Simple Machines was a DC area (Arlington, Virginia to be exact) label run by Kristin Thomson & Jenny Toomey from 1990-1998. Its first releases centered around the very basic concept of the simple machine: wedge, wheel, pulley, screw, lever, & inclined plane. The first, Wedge, was released in April 1990, featuring Geek (one of Jenny's bands), the Hated, Lungfish, & Edsel. From there, the series expanded. Wheel came out in September of the same year with a press twice as large. Holy Rollers & the Juliana Experience contributed to that one. Pulley came out in June '91 with Bricks (a pre-Superchunk, pre-Tsunami project), My New Boyfriend, the Nation of Ulysses, & Mommyheads. Screw ensued the following month with Geek (the band's last hurrah), Velocity Girl, Jawbox, & Candy Machine. It was again a slightly larger press with 2500 total up from 2000 of the previous two. Lever followed in January 1992 with Autoclave, Severin, Circus Lupus, & Scrawl. Inclined Plane finished off the Machines series in January 1993 after Simple Machine's 1992 was occupied largely by the Fortune Cooke Prize comp, the Neapolitan Metropolitan box set, & Tsunami's Deep End. 4500 of this one were pressed with songs by Tsunami, Superchunk, Rodan, & Unrest. All of these 7"s were eventually compiled onto one CD, which is what I'm posting.
While putting out this six 7" series, Simple Machines managed to stay true to its goal of supporting their "peers' efforts by working with other small labels, bands, and local businesses to sustain a productive, self sufficient punk/la la network." You can check out some more of their mission statement of sorts along with lots of other goodies (like a comprehensive discography) at
their website
.
The series obviously features some big names of 1990s indie rock (Superchunk, Nation of Ulysses for example) and some personal favorites of mine (Tsunami, Rodan). I like that Jenny & Kristin always thought about projects thoroughly, piecing them together in creative, cool ways (like the Working Holiday series). I'm really stoked to do a Simple Machines orgy and am excited to get to interview the two women who ran such an awesome label.
The Machines, 1990-1993 compilation
Get it from Dischord